The Silkworm by Robert Galbraith: A review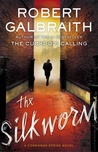 The Silkworm
by
Robert Galbraith
My rating:
4 of 5 stars
Readers of the Harry Potter series know very well what a master storyteller J.K. Rowling is. Even when she uses the pseudonym "Robert Galbraith" that talent shines through. She has written a second very entertaining entry in her Cormoran Strike detective series.
The Silkworm
holds the reader's interest from the first page to the last. It is quite simply delicious fun to read.
Part of what makes it such fun is the setting of this novel. Rowling/Galbraith has taken on the publishing industry, something about which she undoubtedly knows a very great deal and on which she must have very well-formed opinions. Coming from one of the most successful writers in history, those opinions certainly carry an extra dollop of interest as one speculates about the personalities of her characters.
The center of this story is novelist Owen Quine, who goes missing, not for the first time. His dowdy wife Leonora becomes alarmed when he doesn't return as usual and she doesn't hear from him and she contacts our hero, private detective Cormoran Strike, to find him. Strike has made a vow not to take on any clients who are not able to pay his fees, but something about the fiftyish wife stuck at home caring for a daughter with learning disabilities touches him and even though he's not sure he's going to be paid, he takes on the case and soon becomes obsessed by it.
Strike is still aided by his Girl Friday, Robin Ellacott. She came to him as a temp in the first novel
The Cuckoo's Calling
and now she is his indispensable assistant. Together, they follow up on leads concerning Quine's possible whereabouts and it soon becomes clear that this is not one of his usual disappearances.
Quine had just completed a manuscript which he thinks is the best thing he has ever done. Word leaks out that the book contains poison-pen portraits of many people in the book publishing business. If the manuscript that is bootlegged to many sources in the industry is actually published, it would have the capacity to ruin lives. That is motive enough for many of the targets of the poison pen to want to silence the one who wields it.
On a hunch, Strike decides to check a house which Quine owns jointly with another author but that has not been occupied or used in many years. There he finds the brutally murdered and butchered body of the missing novelist. He notifies the police, but he stays on the case, too. He feels an obligation to Leonora and her daughter and he has an ominous feeling that the wife may be accused of the murder. He knows instinctively that she didn't do it.
Soon his worst fears are realized when Leonora is arrested and charged with the sadistic crime, giving added urgency to his and Robin's investigation.
We get to know Cormoran and Robin a little better in this novel. Cormoran's ex-fiancee has become engaged to an upper class twit and she marries him but not before trying to provoke a response from Strike, possibly to get him to beg her not to marry. Meanwhile, Robin is engaged to be married to her own twit, but the wedding has to be postponed when the twit's mother dies suddenly. Cormoran and we can see that Matthew is all wrong for Robin, but will she realize it in time or is she destined to make a disastrous marriage?
Strike, who lost part of a leg to an IED in Afghanistan, struggles both physically and emotionally in
The Silkworm
, but his salvation is his job which he passionately loves. His passion is shared by Robin. They are obviously made for each other, but will they ever see it?
This book is very much in the mode of the traditional British crime novel, of which I am a big fan. We have the detective's connection with the police force in a friend whose life he saved in the war. There are the eccentric suspects and the indispensable assistant. (Think Holmes and Watson.) And most of all, there is a detective who is such good company that you really don't want the story to end, even when his theories have been proved true and he's solved the case. I'm already looking forward to Cormoran Strike's next case.
View all my reviews