Cop Killer by Maj Sjowall and Per Wahloo: A review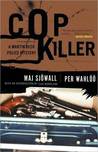 Cop Killer
by
Maj Sjöwall
My rating:
4 of 5 stars
I can't help noting the similarity in titles between this book and the first of the Ed McBain books that I read earlier this month. McBain's book was
Cop Hater
. Maj Sjowall and Per Wahloo stated that McBain's work was an inspiration and model for their Martin Beck series, so was this title an homage to McBain?
Whether it was or not, Sjowall/Wahloo's writing style continues to owe much to that established by McBain in his police procedurals. The writing is spare and straightforward, although the series does allow for considerable character development. We've gotten to know Martin Beck and the members of his team very well in the course of these books.
The books have gotten progressively better as the series has continued, in my opinion, and I have to say that this one, the penultimate entry, is my favorite so far.
Cop Killer
focuses on the working relationship between Martin Beck and Sten Lennart Kollberg, his most trusted colleague. Together they go to the village of Anderslolv in southern Sweden to investigate the disappearance of a woman. A few days into the investigation the woman's body is found in an out-of-the-way location near a lake. She has been murdered, so now the two have a murder case on their hands. They are aided in the investigation by a local policeman, Herrgott Allwright, who seems to know everything about everyone in the small village.
Suspicion immediately falls on the woman's next door neighbor who turns out to be the culprit who was apprehended by Beck and his team in the first novel,
Roseanna
. The man had been released from prison and was trying to make a new life for himself in Anderslolv.
Beck's superiors insist that the neighbor be arrested and Beck and Kollberg reluctantly comply although neither really believes the man is guilty and they continue investigating.
Meanwhile, in another part of the country, two inept young criminals have burgled an unoccupied summer cottage and taken everything that wasn't nailed down. In their escape, they drive without turning on their headlights which gets the attention of a police patrol and they are stopped by the infamous Karl Kristiansson and his new partner (His first one was killed in
The Abominable Man
.) Kenneth Kvastmo, who is just as inept as his old partner but is much more zealous in the pursuit of criminals. It is Kvastmo who insists on pursuing and stopping the car and he emerges from the police vehicle with his gun drawn. Before the encounter ends, two policeman are shot and another is injured in a very weird way and one of the young criminals is dead. The other one escapes and later ditches his car and steals another one. As serendipity would have it, that car turns out to be connected to Beck's murder case!
It all turns into a typical horrible mess, again exemplifying the ineptitude of the Swedish police system. As always in these books, Sjowall/Wahloo are very critical of the brutality and excesses of the police which they see as an outgrowth of failings of the Swedish welfare state of the period. All of this is portrayed in a very sardonic way in their prose. They use humor very effectively to make their points and often the reader can't help chuckling over some of the Inspector Clouseau-like episodes.
At the same time, individual policemen like Beck and Kollberg and several of their colleagues - Gunvald Larsson, Fredrik Melander, Per Mansson, etc. - are shown as dedicated and hard-working, if flawed, professionals who doggedly pursue their investigations of criminality, even in the face of bureaucratic indifference or ignorance.
On a lighter note, we finally see Martin Beck in a satisfying romantic relationship after so many years in a very unfulfilling marriage that ended in divorce. Rhea Nielsen, a woman that he met in the last novel, has become his lover and for the first time since we've know him, he actually seems happy! But will it last?
Only one more book to go in the series. I miss Martin Beck already and he's not even gone.
View all my reviews