Eleven on Top by Janet Evanovich: A review
Note to my readers: For the next several days, I will be on the road engaging in my own personal spring break. While I am gone, I am scheduling posts of a few of my book reviews that have been posted on Goodreads but never on this blog. I hope you'll find them entertaining.
This first one is from Janet Evanovich's Stephanie Plum series. For several years, I read these books obsessively whenever a new one came out. Then, at some point, I fell out of love with them. But this one was read during the time when I still enjoyed them.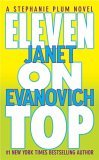 Eleven on Top by Janet Evanovich
My rating: 4 of 5 stars
This was a fun read. It may be my favorite installment in the series so far.

Stephanie's life is in crisis - as usual. She's having second and third thoughts about her choice of a career. On third thought, she quits and takes a series of boring, "normal" jobs, most of which last less than one day before she is fired.

Meantime, she's being threatened by someone leaving her nasty notes and blowing up or setting fire to her cars as warnings. To keep her out of trouble and out of harm's way, Ranger offers her a desk job with his company, Rangeman. She takes it, of course, and thus begins a whole new phase in her career as an investigator.

Morelli gets himself run over by the miscreant who's after Stephanie. His leg is broken in two places and he's laid up, with Stephanie as his night nurse. We know where this is leading!

Lula is promoted to bounty hunter to take Stephanie's position at Vinnie's. Stephanie is finagled into accompanying her on several takedowns that go - hilariously - wrong.

Stephanie's sister has decided to marry the father of her baby and Stephanie will be matron of honor - in an eggplant-colored dress.

Grandma Mazur is still looking for excuses to shoot somebody.

All in all, just another typical caper in Trenton, New Jersey, but it is a delightful read.
View all my reviews