Elegy for Eddie by Jacqueline Winspear: A review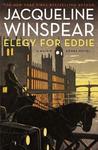 Elegy for Eddie by Jacqueline Winspear
My rating: 3 of 5 stars

Maisie Dobbs has come a long way since her impoverished childhood in Lambeth. This daughter of a costermonger, having been lucky in her mentors and also a willing student and hard worker, has parlayed all of her resources into a successful career as a businesswoman, a private detective/psychologist. She is extremely wealthy, thanks to a bequest from her mentor. She is respected in the community and retains her ties to her old neighborhood, as well. She has a wealthy, titled lover, Viscount James Crompton, the son of the family who did so much for her education when she was a child. Crompton loves her and wants to marry her, but Maisie is unsure of how she feels about that.

In fact, for such an accomplished and successful woman, Maisie is unsure about a lot of things. It seems that what she is very sure of is what is best for those that she cares about, her father and her employees, primarily. She tends to try to manipulate them to order their lives in the way that she thinks is best, regardless of their opinions, and that comes back to bite her repeatedly in this book.

The story begins with Maisie being visited by a delegation of costermongers from the old neighborhood. They've come to request her professional services. A young mentally-challenged man, much loved in the community, has been killed in a factory accident. The question is whether it was really an accident or was it murder? The costermongers suspect the latter and they want Maisie to find out the truth.

The young man, Eddie Petitt, was a horse whisperer. He was born in a stable and had a lifelong connection with horses, and although he had mental limitations, he had some unsuspected talents, one of which was a fantastic photographic memory and an ability to draw detailed pictures of things he had seen only briefly. As Maisie and her assistant Billy Beale continue their investigation, she begins to suspect that Eddie may have seen something that he wasn't meant to see and that he may have copied it. The search is on to find any papers that he may have left behind.

In the course of the investigation, Maisie learns that Eddie had a relationship with a reporter named Bartholomew Soames who was the son of one of Eddie's old teachers who was also tutoring him once again. Did the reporter use Eddie's talents to get information for a story he was working on? Maisie can't ask him because he is dead, too. He fell from a bridge into the river, while supposedly drunk, and drowned. His death seems just a little too convenient.

Meanwhile, Maisie's social life continues unabated and she finds herself in some rarified circles with some heavy hitters in the worlds of politics and publishing, including someone named Winston Churchill and a Rupert Murdoch type who owns several newspapers and a publishing company and uses them all to subtly promote a particular world view with which he intends to get Britons ready for another war - which he is sure is coming. The time is 1933 and this coterie of individuals among whom Maisie finds herself seem preternaturally prescient about the storm that is coming with the elevation of Hitler to the chancellorship in Germany. Maisie learns that James and her friend Priscilla's husband are part of this group which is busy spreading propaganda in support of resistance to Germany.

The investigation of Eddie's death continues and suddenly there is another death - another "suicide" - this time of a man whom Maisie suspects was responsible for Eddie's "accident."

And then, of course, Billy gets beaten to a pulp and almost killed and the reaction of his wife forces Maisie to finally face the fact that she really can't order other people's lives, even if she does think she knows best.

This is a fairly complicated plot and the conclusion was not entirely satisfactory for me, but on the whole, it was an interesting read. I do wish that Winspear would learn to write more believable dialogue. I realize people may have talked a little differently a hundred years ago, but surely not that stilted, I think.

View all my reviews